What aren't your rental applicants telling you? Find out with a SmartMove Eviction Check
Is there anything more painful than evicting a tenant? Did you know that on average:
It costs $3500* to evict a tenant
It takes 3-4 weeks* to evict a tenant
*Based on 2013 TransUnion survey data
In some states these numbers are even worse. As a property owner or manager, that's not a risk you want to take – that's where tenant background checks come in. SmartMove screening services offer a new feature: the eviction report. With a SmartMove eviction check, you can better predict future behavior by analyzing your prospective tenant's eviction history.
TransUnion's eviction checks aren't the usual eviction reports you buy online - we offer comprehensive and more accurately matched search results
With SmartMove tenant screening, landlords have:
The ability to more accurately match your applicant to an eviction record, even with limited information. We do this by using our vast credit, personal, and address history databases to help figure out who is who
Access to one of the largest evictions databases subject to the FCRA with 16+ million eviction records, covering 49 states plus Washington D.C.
The equation is simple: More coverage + More accurate matching = Better information delivered to you fast. And with better information, you can make better decisions to keep your eviction risk low. Better yet? Get only the information you need, when you need it—we offer pay as you go pricing. Plus it is free to signup. There are no minimums or memberships with SmartMove.
Eviction Reports include court records on every file TransUnion eviction reports come from a variety of sources including public court records, and are enhanced with data reported directly to TransUnion. Eviction check reports include:
Tenant judgment for possession and money
Unlawful detainers
Tenant judgments for rent
Failure to pay rent
Writs and warrants of eviction
Getting started with SmartMove is free for landlords—pay only for the background & eviction reports you need when you need it.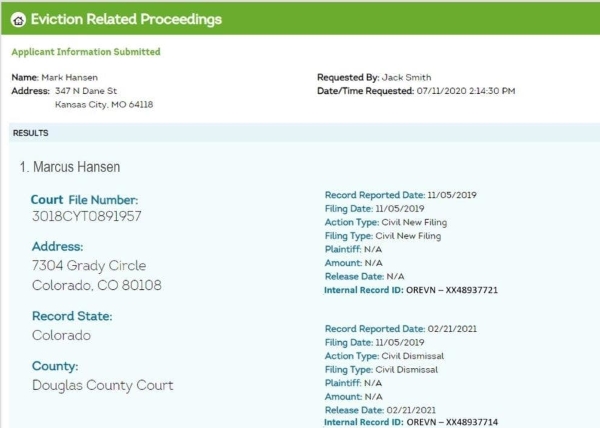 Key Points
Quick, up-to-date results
Helps protect your investment
Taps into hundreds of millions of eviction records